ARTICLE LANGUAGE AND TRANSLATIONS
Xewkija (MALTA)
2006 by astro.perbosc
school : San Lawrenz
city : Xewkija
country : Malta
address :
postal code :
latitude : 36°02' N = 36.033°
longitude : 14°16' E 14.267°
year : 2006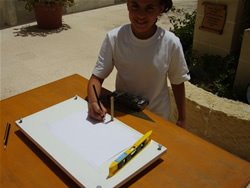 For the second consecutive year, Dun Salv Portelli Primary School, at San Lawrenz, Gozo, e-twinned with another school in Lafrancaise, in France in an effort to measure the meridian of the earth (circle passing through the poles). On 21st June, 2006, Year 5 children, together with their teacher, measured the length of the shadow cast by a stick of known length. Data obtained from this observation was later exchanged with that of the French school in Lafrancaise, in the Midi-Pyrenees.
These Gozitan and French children replicated the experiment done by a Greek astronomer, Eratosthene, who himself, discovered the meridian of the earth in the year 205B.C. At that time, Eratosthene was the director of the Great Library of Alexandria, in Egypt.
The whole project which spanned over a number of months had an interdisciplinary approached. It involved history and geography, astronomy, physics, technology and mathematics. From their observation, the children found that the earth's meridian was 30,374km
Home page
|
Contact
|
Site Map
|
Sign In
|
Statistics
|
visits: 922281
en
Archives 2005-2006-2007
2006 ?
Site created with SPIP 2.0.1 + AHUNTSIC