ARTICLE LANGUAGE AND TRANSLATIONS
Montreal (CANADA)
2006 by astro.perbosc
school : St. Monica's Elementary School
city : Montreal
country : Quebec Canada
address :
postal code :
latitude : 45°28'02 N = 45.467°
longitude : 73°38'01 W = -73.633°
year : 2006

45:28:02 North 73:38:01 West
Shadow length: 102 cm
Sun Angle: 45.5 degrees
Calculated circumference: 40 781 km
Partner School: Princess Anne M.S., Virginia Beach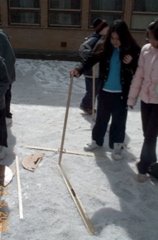 Please find included photos showing the Grade 5 students at St.Monica school in Montreal, Quebec, Canada doing their measurements in the recess yard on a fine winter spring at temperature around 0 degree Celsius, on March 22 and 23, 2006.
Our measurements of the second day were better since they were done more around 12:30 pm than 1:00 pm. as well as students taking more care in holding the meter stick vertically.
Home page
|
Contact
|
Site Map
|
Sign In
|
Statistics
|
visits: 922262
en
Archives 2005-2006-2007
2006 ?
Site created with SPIP 2.0.1 + AHUNTSIC