ARTICLE LANGUAGE AND TRANSLATIONS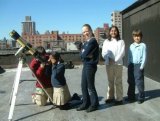 september 19
Wednesday 19 September 2007 by perbosc
Lafrançaise, Cañada de Gomez

Lafrançaise
Latitude : 44°08' N
Shadow :+90.5 cm —>N
Angle : + 42°00'
Cañada de G.
Latitude : 32°49' S
Shadow :+ cm —>S
Angle : - 34°40'
September 19, 2007
Latitude difference : 44°08 '- (-32°49') = 76°57' = 76.950°
Distance : 76.950 x 111.1 = 8549km
Angle difference: 42°30' -(-34°40') = 77°10' = 77.167°
Circumference: 8549 x 360 / 77.167° = 39 882km
New York
The Dwight School, 291 Central Park West,NY 10024
Latitude : 40°47' N
Shadow :+ 82,0 cm—>N
Angle : + 39°20'
September 19, 2007
Latitude difference : 44°08' - 40°47' = 03°21' = 3.350°
Distance : 3.350 x 111.1 = 372 km
Angle difference: 42°30' - 39°20' = 03°10' = 3.167°
Circumference: 372 x 360 / 3.167 = 42 291 km
The school offers traditional athletics such as volleyball, basketball, baseball, soccer and tennis as well as academic teams such as the mock trials. We have many star parties throughout the year using our super telescopes in our roof top observatory.
I am scrambling to get our physics classes on the ball. This is our first time and we are not fully organized.
Sincerely,Kali
Home page
|
Contact
|
Site Map
|
Sign In
|
Statistics
|
visits: 935534
en
Archives 2005-2006-2007
2007 Autumn ?
Site created with SPIP 2.0.1 + AHUNTSIC