ARTICLE LANGUAGE AND TRANSLATIONS
september 24
Monday 24 September 2007 by perbosc
Lafrançaise, Baungon, Arras, Maricopa, Gulf Breeze, Virginia Beach
Lafrançaise
Latitude
Ombre/Shadow
Angle
44°08' N
Lafrançaise (FR)
+98,5 cm —>N
+ 44°30'
08°25' N
Baungon (Philippines)
+15,25 cm—>N
+ 08°40'
Baungon, Philippines : The Abba's Orchard.
Our students are just wrapping up their parent-teacher-student conferences this week and should be getting on the noonday project shortly.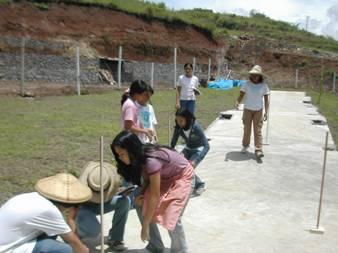 Our school's exact bearings read:
8° 25' 8.55'' North, 124° 38' 4.65'' East.
Arras, école Lafontaine
Latitude
Ombre/Shadow
Angle
44°08' N
Lafrançaise (FR)
+98,5 cm —>N
+ 44°30'
50°17' N
Arras (FR)
+123,0 cm—>N
+ 51°00'
The day after the equinox, in spite of bad weather conditions, we were able to do a few measurements. The value of the angle of the sun's rays with the vertical (51 °) is close to the value of Arras latitude (50 ° 17 ').
Maricopa, Arizona, USA
Latitude
Ombre/Shadow
Angle
44°08' N
Lafrançaise (FR)
+98,5 cm —>N
+ 44°30'
33°03' N
Maricopa (Arizona USA)
+64,00 cm—>N
+ 34°00'
We are an 8th grade Pre-Algebra class at Maricopa Wells Middle School in Maricopa, Arizona, U.S.A.
We are located Latitude (33) Longitude (-112).
Our city and school is in a great growth at this time. A couple years ago our middle school had 300 kids; now we has 1270 and still more are coming! We have a dress code of simple designs/plain shirts and pants, and we have a great sports program with football, volleyball, soccer, basketball, cheer, and cross country. We have a great staff and student population and we are getting excited for this well put together project...goooo Eratosthenes!!
Mrs. Gomez' 8th Grade, 5th Hour Pre-Algebra Class
When I caught up with the class on Wednesday, September 26th, they had already been working with several days worth of sun movement measurements.When I met up with them outside their classroom, at the start of 5th hour, students were already aligning and stabilizing meter sticks that would be used as one of their tools. Underneath the sticks, they had first set down butcher paper. The stick cast the sun's shadow on the paper and the small teams were directed by the teacher to take new measurements every 2 minutes for 10 minutes. This was the data collection phase.
Along with this and several other days of data the students are developing mathematical and statistical ways to analyze and interpret their data - to make it meaningful. The collaborative portion of this project derives from the publishing and evaluation of many class findings. The students in Mrs. Gomez's class were viewing data submitted by students in other countries, far flung geographic locations, who are conducting the same project NOW!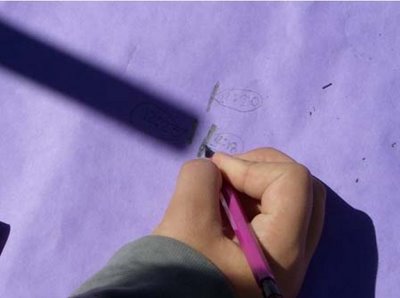 Students will now work to calculate the circumference of the Earth, prepared with a good understanding of mathematics, the measurements of their simple tools and methods, and factoring in data published from a worldwide host of contributors ! They viewed data and pictures from Australia, Philippines, France and more!
Gulf Breeze, Florida USA
Latitude
Ombre/Shadow
Angle
44°08' N
Lafrançaise (FR)
+98,5 cm —>N
+ 44°30'
30°22' N
Gulf Breeze (FL USA)
+56,0 cm—>N
+ 30°00'
Hello from Oriole Beach Elementary! We're located at 30.17 N latitude and 87.10 W longitude...just a few miles east of Gulf Breeze, Florida. We're not on a beach but Pensacola Beach is only a 10 minute drive away. We have 850 Pre-K to 5th grade students in our school. Two of the six 5th grade classes are participating in this project. Our teachers team up for our math and science.
Virginia Beach, USA
Latitude
Ombre/Shadow
Angle
44°08' N
Lafrançaise (FR)
+98,5 cm —>N
+ 44°30'
36°45' N
Virginia Beach(VA USA)
....... cm —>N
+ 37°11'
Our average measurement of the shadow was 9.2 inches from a foot long stick 12.125 inches.
This gave us a central angle of 37.18 degrees.
Our distance to the equator is 2528 miles.
Therefore using the proportion, we measured 24,478 miles.
The actual circumference is 24,902 miles.
Our percent error was -1.7%.

Our school has 1,550 students in Grades 6 through 8. We are a fully accredited Virginia Standards of Learning School, and we prepare our students for high school. Our students enjoy their academics and have many extracuricular activities. In addition to soccer, field hockey, basketball, wrestling, and baseball, we have a Rocket Club and an Astronomy Club . We would enjoy communicating with students in France as in previous years.
Princess Ann Middle School Giants measure the sun's shadow on the Autumnal Equinox 2006 to determine the earth's circumference mathematically!
Princess Ann Middle School 1st launch of 11' Rocket Panther on K1100T
Home page
|
Contact
|
Site Map
|
Sign In
|
Statistics
|
visits: 922262
en
Archives 2005-2006-2007
2007 Autumn ?
Site created with SPIP 2.0.1 + AHUNTSIC